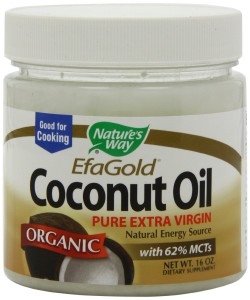 Amazon has Nature's Way Coconut Oil-extra Virgin (Extra Virgin) on sale for $6.94 when you use subscribe and save. This saves you an additional 5% and you have the option to choose your delivery from every month to every 6 months. You can cancel at anytime and will not be penalized and can still keep the additional 5% discount.
Nature's Way Coconut oil is perfect for oil pulling and for the price of just $6.94 it is a cheap way to check out oil pulling and see if you notice any results. This is a great deal as you are getting the item for about 60% off.
Nature's Way EfaGold Coconut Oil is organic, perfect for oilpulling, cooking, and profives a natural energy source. It is a pure extra virgin with 62% MCTs. Click here to buy now!
Tagged with: Deal • EfaGold • Nature's Way • oil pulling • organic coconut oil
Filed under: Oil Pulling